SIMPLIFY OPERATIONS
with RMM
SIMPLIFY OPERATIONS
with RMM
Your Business needs Next Generation RMM Software
Datto Remote Monitoring and Management (RMM) is a fully-featured, secure, cloud-based platform which enables SMBs to remotely secure, monitor, manage, and support endpoints to reduce costs and increase service delivery efficiency.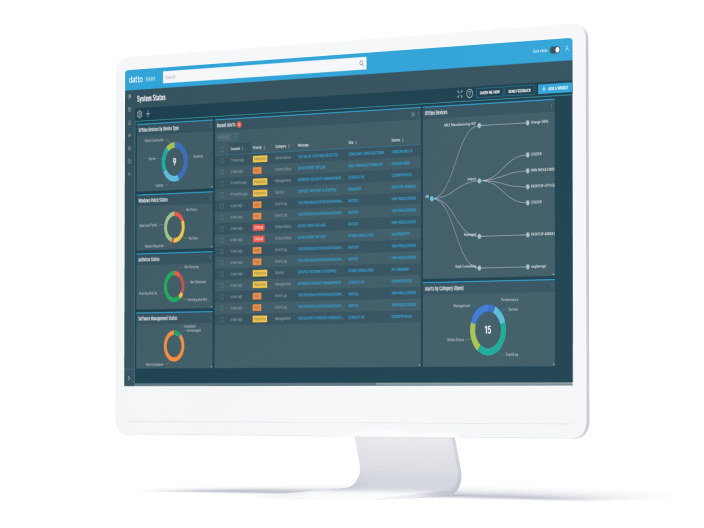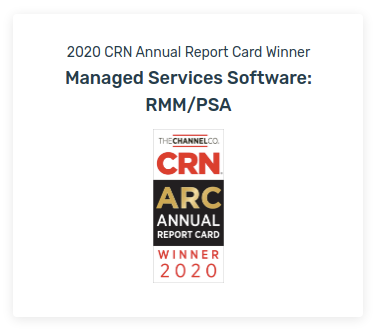 Leverage RMM Automation to Drive Efficient Service Delivery
By centralizing management of all your users endpoints, including those hosted on cloud platforms, you'll reduce costs and increase efficiency. This is achieved through Datto RMM's unique combination of powerful features, efficiency, scalability, usability, and affordability.
Leading the way in RMM Security
Datto RMM is created with a relentless focus on security. With no hardware to maintain and a 99.99% availability you focus more on your service, whether you support 100 devices or 10,000. We are committed to the platform's security and enabling SMBs to better secure client endpoints.
A Rapid Pace of Innovation
Datto RMM has a crystal clear, long-term vision for the future. Monthly updates introduce new innovations and capabilities such as Ransomware Detection.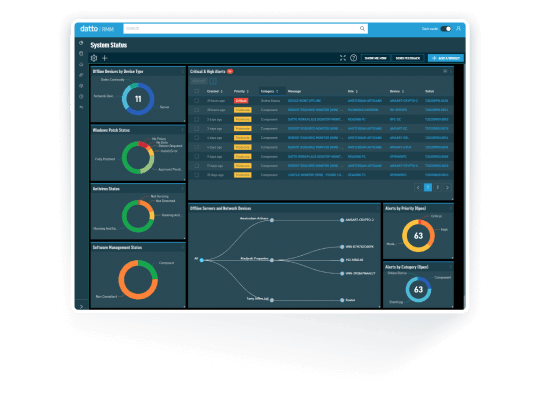 A Cloud-Managed Remote Monitoring and Management Platform Designed for SMBs
Remotely monitor and manage your entire business, reduce operational overhead, and empower your team.
Level up and improve your business with Layered IT as a Service.
Automated Patch Management
Deliver efficient, effective policy-based patch management to keep users machines secure from the latest threats.
Monitoring, Automation, and Scripting
Deliver scalable automation into your service delivery, including third-party validated Ransomware Detection that monitors for and reduces the impact of crypto-ransomware.
Rapid remote support
Snap into action with a single click to initiate remote support options.
Frequently Asked Remote Monitoring and Management Questions
RMM stands for Remote Monitoring and Management. These are software tools that are used by IT service providers or Managed Service Providers (MSPs) to remotely manage all their clients' IT infrastructure under their control. These tools are one of the essential building blocks for delivering IT management services.
All successful Managed Service Providers (MSPs) have an RMM solution at the core of their service delivery. However Remote Monitoring and Management tools can vary in features. A good solution will monitor and alert on issues to provide technicians with the flexibility to solve issues and serve clients without any hassle and help proactively secure and patch client endpoints and detect crypto-ransomware, to keep running at optimal performance. Tools such as Datto RMM are easy to set-up and ensure that MSPs can keep organized and informed.
Not all RMM solutions are created equal. When compared at a high level, it is understandable that the most popular tools are very similar.
Consider the following criteria when evaluating RMM solutions:
Your vendor should be in tune with your needs and actively deliver on a clearly-communicated vision for the solution
The tool should have a robust architecture that is scalable and capable of growing with your business
Ideally, your RMM is intuitive and easy-to-use and provides valuable context and reporting to help resolve issues faster
Possibly most important – your solution should help keep your customers safe from persistent threats
Download our one-pager to discover the five factors you should consider when choosing the best RMM solution for your business.
Yes, Datto RMM is a scalable platform that was born in the cloud, requires no hardware to maintain, and a relentless focus on security to maximize uptime. You can spend more time growing your business and less time maintaining your internal systems.
You can find out more technical details about the Datto RMM platform from our Infrastructure and security page here.
Inverse Chain Technology™ ensures reliable backups which fundamentally changes the way backup and recovery is done allowing for every incremental snapshot to be a fully constructed recovery point.
This increases the backup chain's redundancy and the flexibility in how each point is stored and used to virtualize a system in a disaster recovery scenario.
Datto RMM has taken many steps to address Product, Platform infrastructure, Hosting and Agent security. You can read more about our infrastructure here, and find answers to common security questions and concerns here.